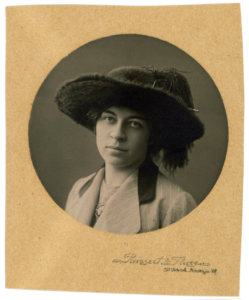 Eremina, Elizaveta Vladimirovna
She was born on October 28, 1879 in the village of Kamenka, Moscow province, into the family of Vladimir Chernyaev.
In 1904, she graduated from the Department of Physics and Mathematics (Chemistry) of the Higher Women's Courts (Bestuzhev) . She studied with the petrographer F. Yu. Levinson-Lessing and became his assistant in the Department of Petrography at the University of St. Petersburg; together with her professor, she attended the 8th (Paris) session of the International Congress of Geology . In 1904-1913, she taught geology at Bestoujev's courses.
His first scientific work was published in 1905 as a co-author with F. Yu. Levinson-Lessing, whose scientific connections were instrumental in organizing Eremina's internships in Europe to improve her petrographic skills. In 1905, she was trained in the application of optical methods to petrographic research by L. Duparc at the University of Geneva. In preparation for her doctoral thesis, she worked with the professor of the University of Lausanne, M. Lujon . In 1912, she received her doctorate from the University of Lausanne for her work on the geology of the Swiss Alpine foothills, which was included in a monograph co-authored with M. Lujon in 1911.
In 1921 she participated in the first Kola expedition of A.E. Fersman and in the same year left Russia forever. She worked in the geological laboratory of the Sorbonne under the direction of E. Og and A. Michel-Levy. In 1922 she participated in the 13th session of the International Congress of Geology in Brussels. In 1926, she began a cooperation with the mineralogy laboratory of the Museum of Natural History in Paris and in 1937, she directed the petrographic direction of the scientific research of the museum. She worked in laboratories and conducted research with leading European scientists: E. Og, A. Lacroix, E. Argan, P. Pruveau and many others.
In her scientific work she remained attached to the Russian geological school, although the influence of the French geological school was manifested in scientific research.
The scientific heritage of E. V. Eremina counts more than 100 publications. She has studied petrography of sedimentary and metamorphic volcanic rocks. In recent years she has carefully studied the composition of meteorite material. Expeditionary research conducted in various parts of the world. She had great prestige among petrographers and raised a whole galaxy of students. She was a member of the Geological Society of France (since 1921) and of the French Mineralogical Society (since 1928). She predicted a great future for the hypothesis of A. Wegener's hypothesis on the theory of continental drift.
The details of E. V. Eremina's biography have become known through the correspondence preserved with F. Yu. Levinson-Lessing and the publication of the French geologist J. Orsei (1965).
She died in the Swiss resort town of Zürzach on March 10, 1964, where she was buried. "According to her wishes, the name is engraved on the tombstone in Russian and French."
Source: Malakhova I. G. Eremina Elizaveta Vladimirovna (Jeremina, Elizabeth) (1879-1964) (http://higeo.g inras.ru/view-record.php tbl=person&id=585)