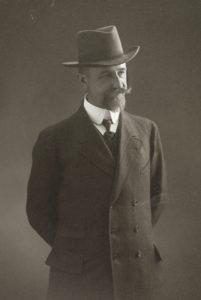 Maurice Lugeon was born on 10 July 1870 in Poissy. Originally from the canton of Vaud, he returned at a young age to the canton of Vaud where he began an apprenticeship in banking. As a nature enthusiast, he struggled to concentrate on his work and soon moved to the Geological Museum where he played the role of preparator under his mentor, Eugene Renevier. After obtaining his licence in 1893, he explored the Jura with Rittener, and the Dents du Midi with his master Renevier. Renevier took him to the Pre-Alps of Savoy to make a geological map. Maurice Lugeon then left Lausanne to study paleontology with Zittel in Munich, then in Paris and Zurich, where he stayed only a short time. Back in Lausanne, he completed his doctoral thesis in 1896 on the Pre-Alps and the Chablais Breccia.
Maurice Lugeon was successively assistant at the University of Lausanne (1891-1893), privat-docent (1896-1898) then extraordinary professor (1898-1906). In 1906, he became director of the Cantonal Geological Museum. He made this museum a collection intended for teaching purposes, for the general public and for specialists who came to contribute their research work. Besides being a theoretical geologist, Maurice Lugeon was also active in applied geology. At a very young age, he had to deal with the water supply of the city of Lausanne. This involved detailed studies and catchments in the Pays d'En-Haut, followed by the construction of a long tunnel. He was also involved in the salt mines of Bex. Maurice Lugeon is the author of Dams and geology where he deals with stability and watertightness issues. This earned him the nickname "Father of Dams" and a reputation as a world expert in this field.
Between 1918 and 1920 he became rector of the University of Lausanne. He was awarded numerous prizes and distinctions in Switzerland, France and throughout the world, including the Legion of Honor and 13 Honorary Doctorates. He was also a member of many societies and distinguished himself by his offbeat literary talents with, among others, the song of Monk Thrust or The Recipe of the Fondue Vaudoise.
Maurice Lugeon died on October 23, 1953 in Lausanne, leaving behind a foundation that financially supported the development of geological science within the University and the Lausanne Museum.
Obituaries
By André Allix, Revue de Géographie de Lyon, 1955: Link
By Hélie Badoux 1954 in "Actes de la Société helvétique des sciences naturelles, 133e Session annuelle du 5 au 7 septembre 1953 à Lugano. - Aarau: H.-R. Sauerländer, 1954. - P. 327-341 ": PDF
 By Edward B. Bailey in "Obituary Notices of Fellows of the Royal Society, Vol. 9, No. 1 (Nov., 1954), pp. 164-173" Link
By P. de Bethune, 1955: PDF
Funeral oration of Pastor Henri Germond, 1953: PDF
Biographies
Biography of Maurice Lugeon, by A. Lombard, Published in Journal of the University of BrusselsJanuary-March 1954. Link
Site of the municipality of Chevilly: Link
Biographical note on Renouvaud: Link
Various